Ironstone Building Materials
—
In-Stock Deck Fasteners


In-Stock: Stainless Steel Camo Edge Clips – $45/50SF, $399/500SF

Screws:  (based on 16″ OC)
375 cnt (100SF coverage)  – $29.95ea           2000 cnt (600SF coverage) – $129ea
Grabber's Barracuda® composite deck screw is the most advanced screw available for composite
decking and now features improved GrabberGard® exterior grade protection. Serrated threads help
Barracuda® drive through even the hardest composite materials. Barracuda® screws drive and seat
better than any other composite screws even in the hardest materials including cap stock decking.
Barracuda will not flag, mushroom or halo.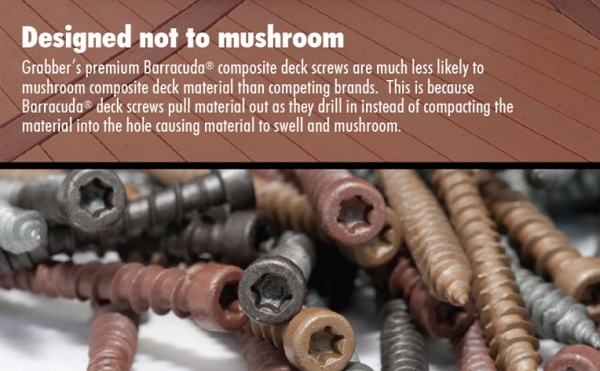 Deckmaster G5 is the strongest grooved deck clip system available.
G5's unique design securely grips deck boards locking them in place. The base of
the clip makes gapping boards easy creating and even 1/5th inch gap between.
Deckmaster G5 Box 175Clips (100SF Coverage) – $85ea          Box 875Clips (500SF Coverage) – $425ea
i 

The CAMO Hidden Deck Fastening System is the first hidden fastening system that easily and affordably attaches treated lumber, hardwood, cedar, composite or PVC deckboards directly to the substructure creating a beautiful, fastener-free deck surface. The system includes:
CAMO Hidden Fasteners
CAMO Marksman and Marksman Pro tools
CAMO Driver Bits
CAMO Hidden Fasteners were independently tested and exceeded ASTM Uplift Resistance standards in all solid and grooved wood, composite, and PVC and boards tested. CAMO also exceeded ASTM Thermal Cycling standards in all solid wood, composite, and PVC and boards tested.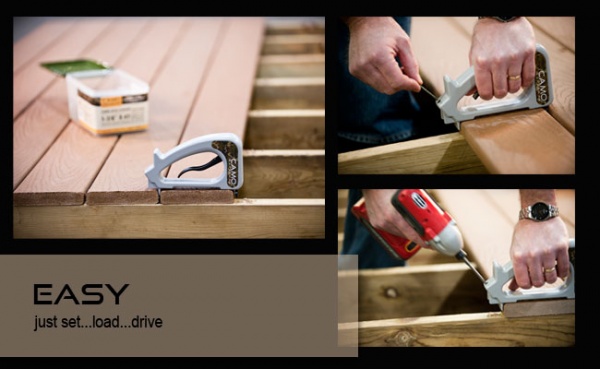 Hidden in the side of the board, CAMO deck screws create a beautiful, fastener-free deck surface. Easy to install using either Marksman tool, CAMO secures deck boards directly to the joist to reduce board movement, and they back out easily in the event a board needs to be replaced. No pre-drilling is required! And CAMO deck screws come with a Limited Lifetime Warranty that guarantees against rust and corrosion for the life of the project.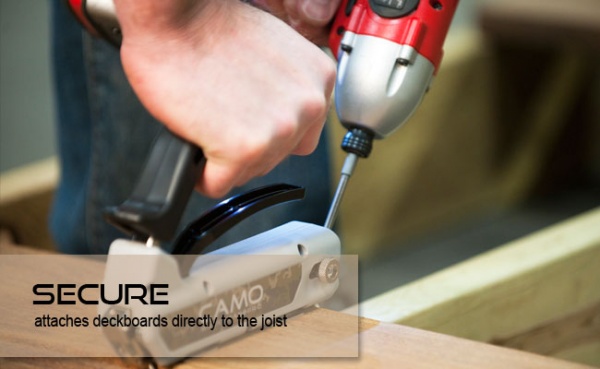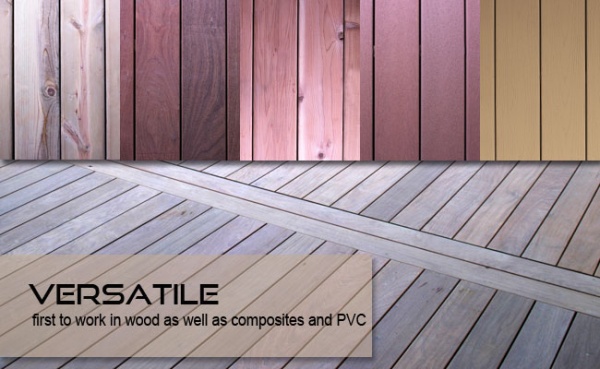 Screws:  (based on 16″ OC)
100 cnt (25SF coverage)  – $19.95             700 cnt (200SF coverage) – $49.95
1750 cnt  (500SF coverage) – $99.95        Marksman Pro Tool – $49.95
Driver bit pack; 2 per pack – $4.99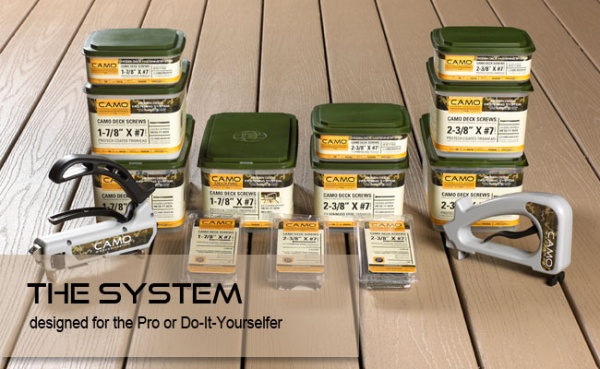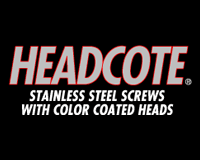 Headcote stainless steel deck screws with color coated heads are designed to blend with all types of decking, including Ipe, Cedar, Mahogany, treated lumber, PVC, composites and capstock. With 18 colors, many specially created for the newest deck boards on the market, Headcote offers the best color match possible.
Deck Packs In-Stock:
350 cnt (100SF coverage 16″OC) – $59ea
Also sold by the pound: $13.80/LB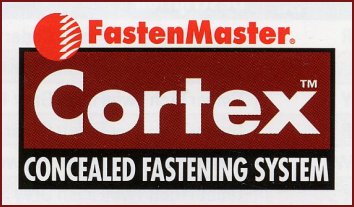 In-Stock Cortex for White PVC Trimboards. Cortex for deckboards can be ordered.